Soft-core Geek Porn
In my spare time, I illustrate articles for
Hermes Portal
, a magazine for
Ars Magica
.
I was recently engaged by Erik Dahl, the author of the
Broken Covenant of Calebais
for the "Calendar Project". Several other illustrators and amateur-historians are also involved, to illustrate the pages and determine the accurate dates for the year 1222CE.
Erik described it as:
"The kind of stuff young Hermetic magi might look at during apprenticeship and hide under their lab texts when their masters come by. :)"
The brief was to create a calendar with suggestive pictures of famous sorceresses of history, in a weird kind of spoof of both Ars and of geeks.
Result: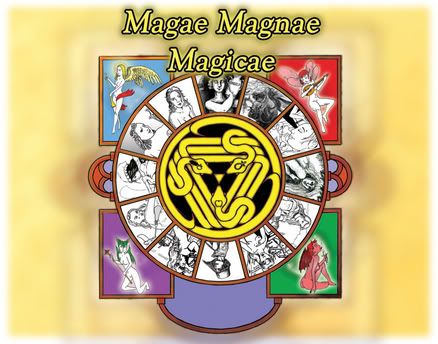 As you can see (barely), the cover of the calendar is a "homage" to the Ars Magica cover:
Only, my cover is a lot less ornate (since I don't have the vine-scrolls or the fonts).
Overall, I am happy with how it turned out. While I'm entirely sure that illustrating soft-core geek porn is my NOT my cup of tea, I do get a cut of the profit, and it was a definite lesson for me in using Photoshop.
So, while I put together the NYLL Journal, the VYLL Journal, the ALS Journal and the Bullsheet, I have also been doing covers for dubious calendar projects.